If you know anyone who deserves a pat on the back, well done, Congratulations, then treat them to this Wise Owl Congratulations card.
It is always nice to have your achievements recognised so whether its for passing exams, a driving test, getting a promotion, anything they are proud of it is worth a little celebration.
You can also customise this card to make your own special message relevant to the occasion of celebration.
Owls are well known to be wise creatures and this stunning Owl watches out from this card with wise eyes.
A lovely unusual card for anyone who loves owls, birds and wildlife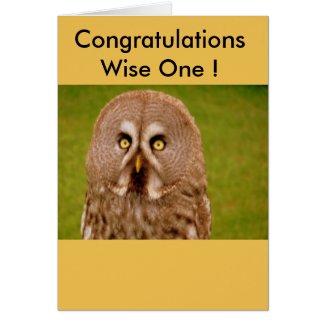 Congratulations Wise One Card by RaintreeDesigns
Create personalized cards online at Zazzle.
If you would like to get this card in UK please follow this link Congratulations Wise One Card by Raintree Designs
If you like this post and design please share with your friends.