What about these two very sweet Meerkats!
They came as close as they dared and you can see their gorgeous little faces. Very inquisitive and full of life they scampered around just stopping long enough for me to take this photograph of them!
I love their faces, especially the markings around their eyes and tiny noses and those ears are just too cute. I think the markings on their body are lovely too, but most of all I adore their character and courage.
This mug and the other mugs available with the same design, are perfect for all your teas and coffees , even a nice hot chocolate. Having these two Meerkats to greet you every morning or after a long day at work on this customisable mug would be happy indeed!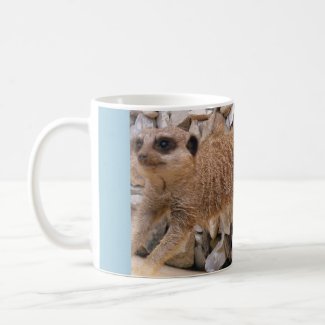 Simply Meerkats Mug
by
RaintreeDesigns
Look at Meerkats Mugs online at
Zazzle.com
Please follow this link if you would like to buy Simply Meerkats Mug By Raintree Designs in Zazzle UK
If you like this post or item please share