Today I would like to share with you a beautiful card made by a good friend Ann of these beautiful Tree Sparrows. I love these little birds and think this photograph is just beautiful with such a clear picture of both birds heads and then the gorgeous fantail of the other bird.
A lovely card for anyone who appreciates birds and nature.
Ann is a keen birdwatcher and photographer and this was taken at Bempton Cliffs in Yorkshire UK which is famous as home to the largest onland colony of Gannets and also these adorable Tree Sparrows.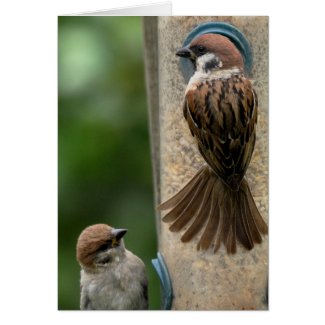 Note Card: Tree Sparrows on Feeder
by
Just_Cards
make a card online
at zazzle
Sadly in many areas of UK Tree Sparrows are a rare sight having lost around 93% of the birds population between 1970 and 2008. Thankfully there are some initiatives in place to try to rectify this situation.
So you can imagine how thrilled Ann was to find so many tree Sparrows in one area!
They do tend to live in small colonies or sometimes with their larger house sparrows in larger colonies. They come there to be fed and they also like to nest under red pantiles of the Visitor centre.
These little birds love to utilise the spaces between the tiles which are just the right size for them and keep them and the nest warm.
While most birds in UK pair up in the Spring these tree sparrows like to find a mate in Autumn. Mainly seed eaters but they do feed insects to their young and have three broods of up to seven eggs each time a year.
I hope you enjoy this lovely card available to buy Tree Sparrows On Feeder by Just Cards at Zazzle
If you are in US and would like to order this card please use this link Tree Sparrows On Feeder
Please share if you liked this post.